If you were given $50,000 to spend -- what kind of note taking software would you build?
What's the best way to do market research? Ask the market.
So that is exactly what I'm about to do. First though, a little background...
For years I have been envisioning my dream product. It's called Mindfolder.
And it's for taking notes. But more than just for notes, its purpose is for saving ideas. And most importantly - for growing them.
Just recently I applied for a $50,000 business loan.
To help fund my vision; the development of Mindfolder v1.0
Still waiting on a decision - a business mentor within the program suggested I do market research to "figure out who is your customer and what they want". Now, with years worth of feature planning and a solid product design already - external feedback is a rather 'foreign concept' at this point. Though honestly, I have not (and still do not) necessarily care about customer feedback in these early stages. And if you're building your dream product - neither should you. What's most important is making something that functions. Making at least some aspect of your vision a reality.
As Steve Jobs said, "It isn't the consumers' job to know what they want."
Seems to me that innovation is created by delivering something new. So I tend to agree with Jobs and advocate a ready-fire-aim approach.
So, about that feedback...
Needless to say - even after downplaying its importance - I'm still going to ask you for some input. I'd like to oblige my business mentor. And heck, I am warming up to this feedback thing - cause maybe you've got some cool ideas. If you do, I'd love to hear about them.
In return - I will provide you a small gift.
Here goes: if you will fill out the form below - I will reward you an 'early adopter' discount off the initial price of my upcoming product, Mindfolder v1.0. Of precisely 50% the full retail price. Regardless of whether or not I land that $50k loan. You have my word.
A bonus that will make this worthwhile TODAY

I admit, a discount on a 'yet-to-be released software product' - without as much as a screenshot or product page - is not exactly the most tantalizing offer.
So allow me to give you something better. Something you can use today.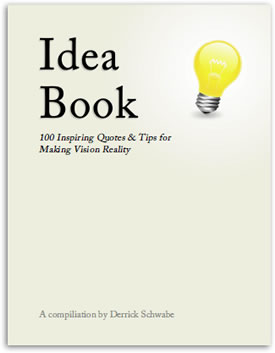 After filling out the following form, you will immediately receive the
'Idea Book - 100 Inspiring Quotes & Tips for Making Vision Reality'.
It's a hand-picked compilation I put together featuring powerful words from some of my favorite people. The book is sort of a rare gem - something I created for personal use. But I have decided to share with you today - exclusively - as a token for filling out this form.
Take advantage! The gifts - the Mindfolder v1 discount code and free eBook - will be sent to you upon completion of the form.
Fill out the form below to get your gifts. Oh, and be sure to follow @Mindfolder on Twitter if you'd like to stay updated on the project.
( feedback form is offline )